Easthaven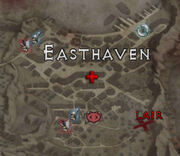 The town of Easthaven is located in the northeast of the Kingdom. It is a town of merchants with strong naval traditions.
Easthaven was founded at some unknown time in the past. The town was once a prosperous center of trade until the arrival of the Witchmaster and his Army. Now an aura of gloom and despair has consumed the city all the while fear has gripped the hearts of many. Beware of the winding alleys that span the town.
The town has several stores and places of interest. There are two Potion Makers, one named Elin in the south in the tent encampment and one named Anna-Lena in the northwest near the Docks. There are two Blacksmiths, one in the northwest near the exit to Troldeskoven and one in the southwest below the tent encampment. A healer named Dr. Frans can be found in the center of town below the town plaza, a Farseer named Bob-eer is in the south, and a woman named Anna the Undoer is in the northeast near the Docks who offers to respec Abilities and Bloodline.
There are multiple places of interest such as the central plaza that has become a meeting place for a newly formed Cult, a sizeable market in the north part of town, a tavern east of the Farseer, tents are set up in an encampment in the south, a Church is in the east, the only Docks in the Kingdom, a Vampire Lair in the southeast, multiple Resistance Hideouts, a mysterious Alley, and a manor that has been taken over by the Witchmaster east of the town plaza.
- Origins
- The Cult
- Kevin
- Hedvig
- Margaret
- Antonia
- Elin
- Adam
- Bjorn
- David
- Dr Frans
- Eerikki
- Fila
- Gruntiar
- Gunn
- Huck
- Hoomen
- Jasmine
- Jocke
- John
- John
- Karl
- Kent
- Kill
- Korl
- Louise
- Ludvig
- Magnus
- Mark
- Martina
- Mina
- Nicole
- Nils
- Nils
- Orjan
- Phil
- Philip
- Rudolf
- Sandy
- Sara
- Sunnis
- Tara
- Timoth
- Yngve
- Hunters
- Guards
- Farmers
- Drunks
- Scouts